SynCon® – Connecting Cables & Transformer Terminals SynCon® TRK 2.5-Si and TRK 4-SL
TRK terminals can be selectively snap mounted on the 2 x 10 mm or 2 x 35 mm mounting rail and bobbins withintegrated mounting compartments. In addition to the groundterminal block, all insulation housings have a covering flap. Thisreveals the lateral open solder hook to facilitate the insertion andsoldering of winding ends and subsequent fingerproof covering in compliance with VBG 4. This type covers the cross-sectional range up to 10mm². With the exception of the TRK 10, the terminals are availablewith screw or screw and slip-on connections.
The TRK 4-SL yellow/green ground terminal block can beharmoniously connected to the remaining terminal types. It isscrewed to the laminated core together with the mounting rail.
All TRK terminals are designated with the marker pin BN-TRK.
Download datasheet
Technical drawing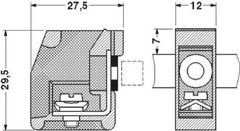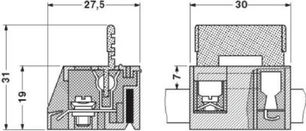 Technical data
| Property | Unit of measure | TRK 2.5-Si | TRK 4-SL |
| --- | --- | --- | --- |
| Design | | 5x20 and 5x25 | |
| Rated cross section | mm² | 2.5 | 4 |
| Max. Strombelastbarkeit | A | 6,3 depending on SI | |
| Rated voltage | V | only possible with transformer | |
| Rated insulation voltage | V | 250 | |
| Rated surge voltage / Contamination class | kV / - | 4/3 | 8 / 3 |
| Surge voltage category/Insulation material group | | III / I | III / I |
| Property | Unit of measure | TRK 2.5-Si | TRK 4-SL |
| --- | --- | --- | --- |
| Rated voltage | V | 250 | |
| Nominal current | A | 6.3 | |
| AWG | kcmil | 18-14 | 18-12 |
| Property | Unit of measure | TRK 2.5-Si | TRK 4-SL |
| --- | --- | --- | --- |
| Nominal current | A | 8 | |
| AWG | kcmil | 22-12 | |
| Rated voltage | V | 300 | |
| Property | Unit of measure | TRK 2.5-Si | TRK 4-SL |
| --- | --- | --- | --- |
| Strand cross section rigid min | mm² | 0.75 | 0.75 |
| Strand cross section rigid max | mm² | 2.5 | 4 |
| Strand cross section flexible min | mm² | 1 | 1 |
| Strand cross section flexible max | mm² | 2.5 | 4 |
| Strand cross section with AEH min | mm² | 0.75 | 0.75 |
| Strand cross section with AEH max | mm² | 2.5 | 2.5 |
| 2 strands equal cross section rigid min | mm² | 0.75 | 0.75 |
| 2 strands equal cross section rigid max | mm² | 2.5 | 4 |
| 2 strands equal cross section flexible min | mm² | 1 | 1 |
| 2 strands equal cross section flexible max | mm² | 2.5 | 4 |
| 2 strands equal cross section with TWIN-AEH min | mm² | 0.5 | 0.5 |
| 2 strands equal cross section with TWIN-AEH max | mm² | 1 | 1.5 |
| Number of connections | | 2 | 2 |
| Connection type | | screw connection | screw connection |
| Stripping length | mm | 11 | 11 |
| Thread | | M4 | M4 |
| Torque | Nm | 1.0-1.2 | 1.5-1.8 |
| Property | TRK 2.5-Si | TRK 4-SL |
| --- | --- | --- |
| Insulation material | PA | PA |
| Inflammability class acc. to UL 94 | V2 | V2 |
| Contact surface | tin-plated | tin-plated |
| Property | TRK 2.5-Si | TRK 4-SL |
| --- | --- | --- |
| Colour | TRKS 2.5-SI GY | green-yellow |
| Colour | grey, orange | TRK 4-SL |
| Colour | TRKS 2.5-SI-OG | |