SynFlex Lösungen
Films and stamped parts for fuel cells – clean future for energy supply
Since decades we develop tailor-made films and stamped parts in cooperation with our customers. These parts are used in various industrial sectors – amongst others also in the trendsetting fuel cell technology.
Fuel cells are a game changer in future energy supply. They generate heat and electricity from environmentally friendly hydrogen and achieve high efficiencies - without combustion.
Fields of application of fuel cells are very diverse and range from stationary energy systems, mobile power generators in cars and trucks, to portable applications such as emergency power generators.
Customized films and stamped parts for your fuel cell project
Select the insulating materials and electrical adhesive tapes from our wide range of products for your fuel cell project. Do you need advice on material properties or possible combinations? Our experts are available at any time to plan your tailor-made material. Following, our production takes on the processing and produces the basis materials for your stamped parts.
Just submit a sketch, technical drawing, a sample or CAD graphic. We will then jointly discuss the design and implementation of your individual stamped parts.
You do not have precise specifications for your stamped parts yet? We will work out the details for a suitable solution for the entire process together with you: starting from the idea, to the drawing to the production, assembly and shipment of your stamped parts.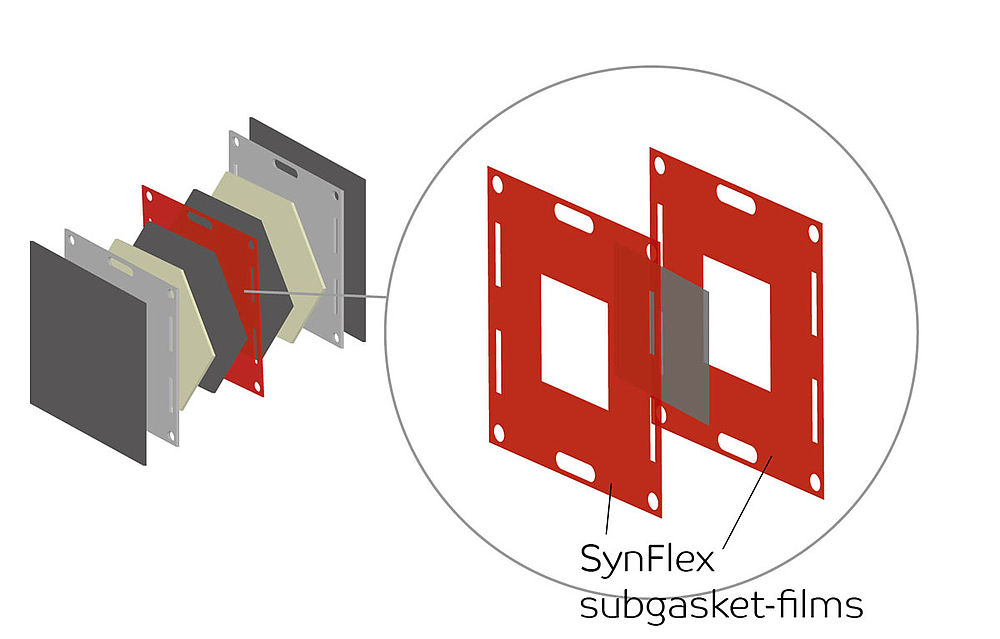 Lowest overall heights in fuel cell stacks thanks to sub-gasket films
The core of PEM fuel cells is formed by the so-called membrane electrode assemblies (MEA) in which an ion-conducting membrane is enclosed by sub-gasket films.
These sub-gasket films are die-cut parts made of PEN, PI, PET or PPS films, combined with an adhesive. They are used in the construction of sub-gaskets and their application in PEM fuel cells and electrolyzers. Essentially, sub-gasket films perform the following tasks:
mechanical stabilization of the polymer electrolyte membrane
reliable insulation of the reaction sides (hydrogen and oxygen)
The aim of the development of our sub-gasket film was a significant increase in long-term stability with regard to insulation, adhesive strength and sealing, creeping and wear behavior.
In parallel to product development, we have developed suitable test and inspection procedures to evaluate development results and monitor quality for series production.
TEONEX® PEN films as an excellent basis for sub-gasket films
In intensive test series of our high-performance sub-gasket films, we were able to confirm the particular suitability of the PEN film TEONEX® of our long-standing partner Toyobo as a basis for sub-gaskets. TEONEX® features excellent mechanical and electrical properties and ensures that the sub-gasket films in fuel cell stacks operate reliably.
The PEN film TEONEX® has an increased property profile in every respect and is particularly impressive due to its high temperature resistance. In addition to the classification of the TEONEX® PEN film in temperature class F (155°C), TEONEX® offers further advantages:
very high dielectric strength
high mechanical strength
high stiffness
low moisture absorption
easy lamination
SynFlex as a system supplier for MEA manufacturers
With our many years of know-how in the production of customized laminates and individual die-cut parts, we offer you the highest product quality and respond to your needs.
High application expertise
We will support you in the development of your project and help you select suitable materials for your sub-gasket films.
individual films (type and thickness) available ex stock
individual release liner
fast sampling process
Product quality and quality assurance
Our certified laboratory safeguards the product quality of your sub-gasket film for the production of your fuel cell stacks.
large laboratory with extensive testing facilities (IR, TGA, etc.)
UL certified partner according to UL 1446 (experience in long-term tests and aging behavior of materials)
technical consulting expertise by specialized product managers
Decades of production experience and expertise
Take advantage of our experience in the production of laminates and die-cuts for your sub-gasket project and benefit from decades of know-how.
from primary material to individual die-cut part
multilayer coating and lamination
individual die-cutting, bending and punching (samples available within 24 hours)
tape cutting for roll material
Directly available stocks and production capacity
Our international network offers you consistent quality of our services and products.
large selection of standard materials such as PI, PEN, PET and PPS films as the basis for your sub-gasket film
risk minimization by alternative product variants
international footprint in Europe, Middle East and Asia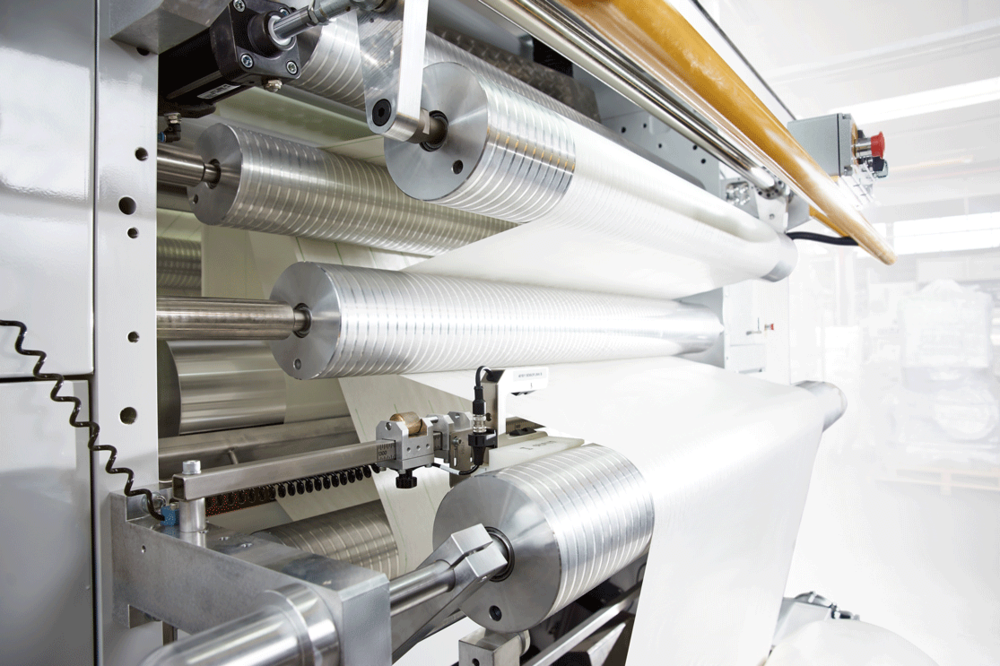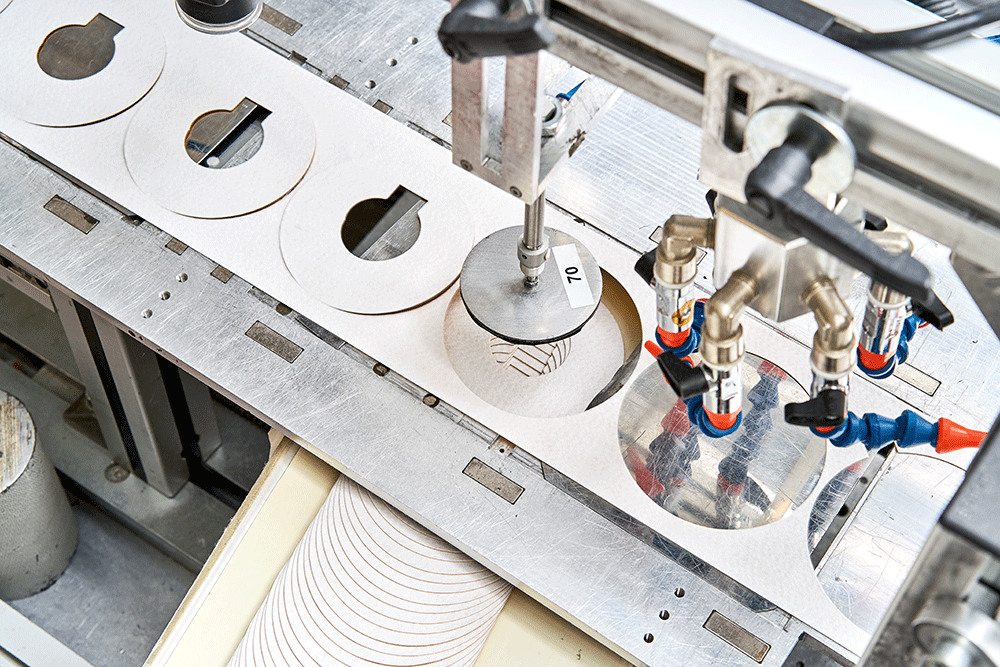 Sample and series production of sub-gasket films
Regardless of whether you already have a precise idea of your product, or whether you are still in the development phase - we are at your side with sample material in A4 format, 490 mm x 500 mm, or rolls, as well as materials for series production with the composition you specified.
With our one-stop solution, from sourcing the backing material, type of liner, to converting the materials to the dimensions you need, we offer you the full potential to implement your project at any stage of development.