SynTape®, Intertape®, Isotape®
Electrical adhesive tapes for electrical insulation
Electrical adhesive tapes are used in electric motors, transformers and generators for electrical insulation and mechanical protection.
Our adhesive tapes are also ideal for mechanical protection and are used for labelling, bundling or marking. To meet your exact requirements, we offer a range of different material and adhesive combinations for electrical adhesive tapes.
Since electrical tapes are often exposed to high loads, we manufacture them according to the strictest standards and test them for reliability. This is how we ensure the quality of our adhesive tapes - in addition, we carry out further material tests in our SynLab® in-house laboratory on request.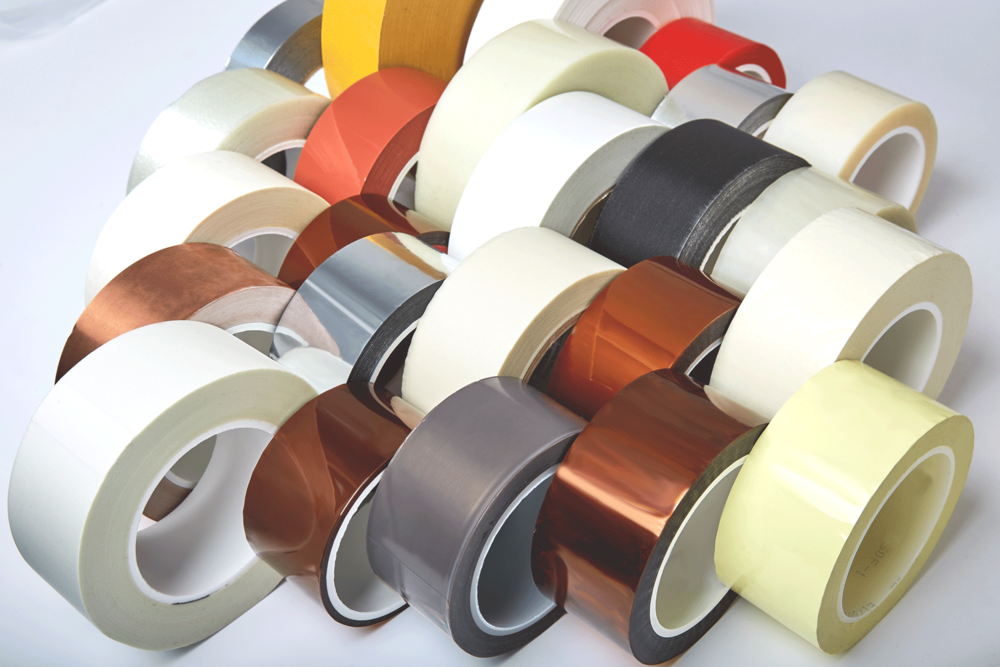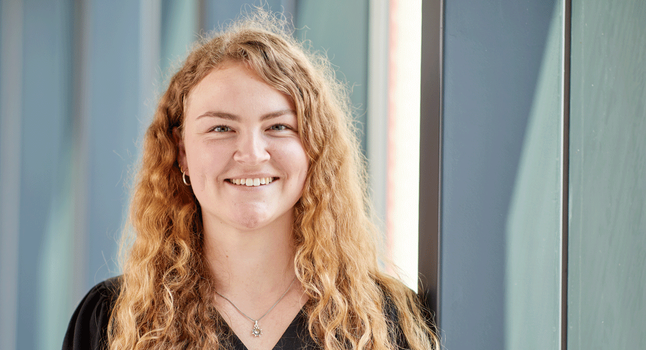 Find your right electrical adhesive tape with us!
You have questions according to our electrical adhesive tapes or want to send an inquiry?
Our sales representative will be happy to help you.
Electrical adhesive tapes – High-tech products perfectly tailored to your demands
Adhesive tapes always consist of several layers. The base material, also called backing or carrier, is usually a flexible insulating material and forms the basis for the actual electrical adhesive tape.
There is a release coating on the outside of the backing which is adhesive-repellent, preventing the tape from sticking to itself and making it easier to unwind.
The inside of the backing material is coated with a bonding agent that ensures a permanent bond between backing and adhesive. Finally, the actual adhesive is applied on top this bonding agent.
Depending on your application, you may need a different structure for your electrical adhesive tape. For this purpose, we offer a wide range of different base materials and adhesive types. The properties of the different base materials in combination with the appropriate adhesive result in a completely new, highly technical product that can be used in a wide variety of applications in the electrical industry.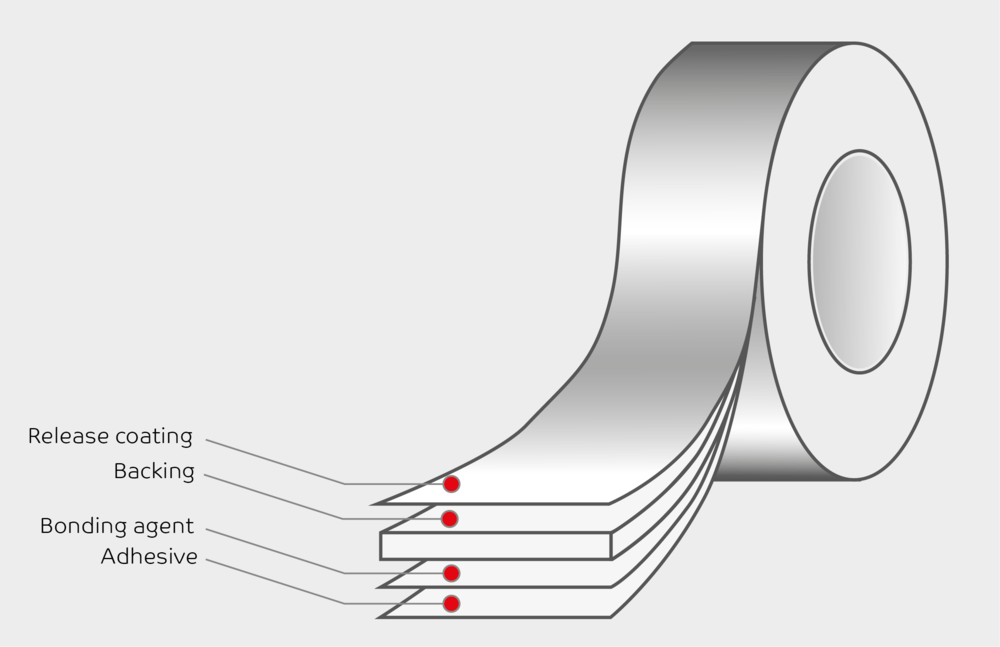 Large selection of base materials for your electrical adhesive tape
Polyimide adhesive tapes are particularly suitable to ensure first-class heat resistance and dielectric strength.
Polyester film adhesive tapes are highly flexible insulating tapes that have high dielectric strength even when the material is thin.
Extremely flexible and at the same time highly tear-resistant are the electrical adhesive tapes made of glass fibre. In addition, they offer high temperature resistance and are available with rubber, acrylate or silicone adhesives.
Other base materials: films (polyester, PEN, polyimide, etc.), polyester fleece, acetate fabric, aramide paper, paper, metals and many more.
Are you looking for the right product for your next project? We can advise you and work with you to find the electrical adhesive tape that meets your individual requirements.
Three powerful adhesive types for your electrical adhesive tape
Acrylic adhesives are temperature and ageing resistant. Furthermore, they are characterized by their good resistance when used with impregnating agents.
Thermal class F: Resistant to impregnating agents
Rubber adhesives have a high initial tack and are very easy to process. However, they are not resistant to impregnating agents.
Thermal class B: Very high initial tack
Silicone adhesives are characterized by high temperature and ageing resistance. They are well suited for bonding to anti-adhesive, i.e. poorly adherent substrates and can be removed without leaving residues.
Thermal class H: High temperature and ageing resistance
---
Our electrical tapes are classified into specific insulating material classes. Classification is based on the determination of limit temperatures. The respective letter in the name of the tape indicates the maximum continuous temperature to which the tape can be exposed. We offer insulating tapes in the following insulating material classes:
A 105 °C
B 130 °C
F 155 °C
H 180 °C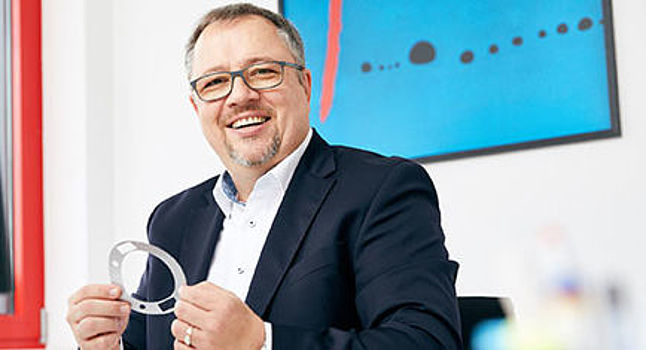 We offer the best service, even when it comes to difficult matters!

Do you have technical questions according to our electrical adhesive tapes? Contact our product manager who will be happy to help you.
Electrical adhesive tapes for individual use
Our electrical adhesive tapes are mainly used in electric motors, transformers and generators, but can also play a valuable role in various other applications. For example, they are used for electrical insulation in the following industries:
Medical technology
In medical technology, you can use our adhesive tapes made of acetate fabric, among other things, to bandage cable harnesses in medical end devices. At our location in Schramberg we produce stamped parts made of copper adhesive tape Scut.36 for EMC protection.
In addition to cable taping or electrical insulation, electrical adhesive tapes are used in the automotive industry for surface protection and sound insulation.
Use our adhesive tapes TRB16 Eco and TRB19 Optimo to clean the stamps in pad printing. Two pad cleaning tapes that reliably remove dirt and residual ink, but at the same time leave no adhesive residue.
Non-woven polyester tapes with acrylic adhesive are particularly suitable for vibration protection in white goods. For this purpose you can use our SynTape® F/PT.20-20 or Intertape® 51595. In addition, our adhesive tapes are suitable for cable taping or as edge protection.
Our polyester and polyimide adhesive tapes are ideal for surface protection in the solder bath or as protection in the impregnation process. To prevent contamination of surfaces not to be processed, cover them with the adhesive tape. Once the process is completed, the silicone adhesive allows the adhesive tape to be removed without leaving any residue – eliminating the need for subsequent cleaning.
Electric adhesive tapes of the highest quality - with UL approval on request
We carry out many analyses and tests in our in-house laboratory SynLab® to ensure the highest quality. For example, for many of our UL-certified electrical adhesive tapes.
If you need further examinations, please contact our SynLab® experts. In addition to material analyses and service life measurements, we offer you a broad portfolio of tests and measurement methods to ensure the quality of materials. In addition, we support you in the new approval, expansion or adaptation of existing UL systems.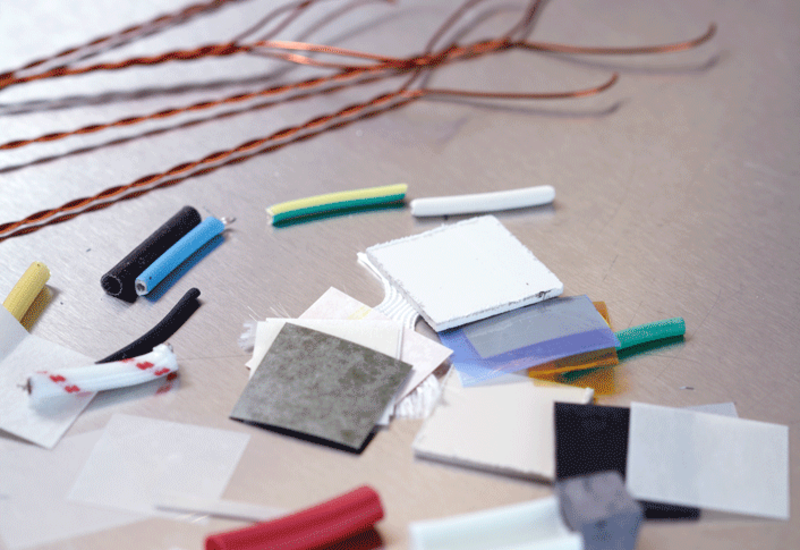 Product range
SynTape®, Intertape®, Isotape®
| Product | Heat class | Type | Adhesive | Backing / Material |
| --- | --- | --- | --- | --- |
| SynTape® B 113/ P.34 | B / 130 °C | | Acrylate | Polyester |
| SynTape® B 107/ P.31 | B / 130 °C | | Rubber | Polyester |
| 3M™ no. 5 | B / 130 °C | | Acrylate | Polyester |
| SynTape® B/ P.47 | B / 130 °C | | Silicone | Polyester |
| SynTape® B/ P.355 | B / 130 °C | | Acrylate | Polyester |
| 3M™ no. 1350F-2 | B / 130 °C | | Acrylate | Polyester |
| SynTape® B 108/ P.315 | B / 130 °C | | Rubber | Polyester |
| SynTape® B/ P.42 | B / 130 °C | | Silicone | Polyester |
| SynTape® F/ PVX.30 | F / 155 °C | | Acrylate | Polyester, Glass fibre |
| SynTape® B/ PR.25 | B / 130 °C | | Rubber | Polyester, Polyester glass filament reinforced |
| SynTape® F/ PS.25 | F / 155 °C | | Acrylate | Polyester, Polyester glass filament reinforced |
| SynTape® F/ PS.30 | F / 155 °C | | Acrylate | Polyester, Polyester glass filament reinforced |
| Syntape® B/ PR.30 | B / 130 °C | | Rubber | Polyester, Polyester glass filament reinforced |
| SynTape® F/ PT.20-20 | F / 155 °C | Laminate | Acrylate | Polyester, Polyester non-woven |
| SynTape® F 131/ PT.40 | F / 155 °C | Laminate | Acrylate | Polyester, Polyester non-woven |
| SynTape® B/ PT.25 | B / 130 °C | Laminate | Rubber | Polyester, Polyester non-woven |
| SynTape® B/ PT.45 | B / 130 °C | Laminate | Rubber | Polyester, Polyester non-woven |
| SynTape® B 354/ R.180 | B / 130 °C | Laminate | Rubber | Polyester, Paper |
| SynTape® B 616/ GL.95 | B / 130 °C | | Rubber | Glass fibre |
| 3M™ No. 1350F-1 | B / 130 °C | | Acrylate | Polyester |
| SynTape® F 562/ GL.94 | F / 155 °C | | Acrylate | Glass fibre |
| 3M™ no. 79 | F / 155 °C | | Acrylate | Glass fibre |
| SynTape® H 618/ GL.96 | H / 180 °C | | Silicone | Glass fibre |
| SynTape® H/ GL.99 | H / 180 °C | | Silicone | Glass fibre |
| SynTape® A/ CP.50 | A / 105 °C | | Rubber | Crepe paper |
| SynTape® F 118/ H.20AC | F / 155 °C | | Acrylate | Kapton® |
| SynTape® F/ H.50AC | F / 155 °C | | Acrylate | Kapton® |
| SynTape® H 428/ H.20 | H / 180 °C | | Silicone | Kapton® |
| SynTape® H/ H.50 | H / 180 °C | | Silicone | Kapton® |
| SynTape® H/ 560 | H / 180 °C | | Silicone | Polyimide |
| SynTape® A16-320 | -40 to +100 °C | Double sided | Acrylate | Polyester non-woven |
| SynTape® F/ PX.50 | F / 155 °C | Laminate | Rubber | Polyester, Aramid, Nomex® |
| SynTape® F/ K.30AC | F / 155 °C | | Acrylate | PEN |
| SynTape® H/ K.30 | H / 180 °C | | Silicone | PEN |
| SynTape® F/ PX.11/18/23 | F / 155 °C | Laminate | Acrylate | Polyester, Aramid, Nomex® |
| SynTape® F/ X.80 | F / 155 °C | | Acrylate | Aramid, Nomex® |
| SynTape® A 560/ CA.100 | A / 105 °C | | Rubber | Acetate fabric |
| 3M™ no. 1181 | | | Acrylate | Copper film |
| SynTape® SCUT 36 | -40 up to +120 °C | | Acrylate | Copper film |
| SynTape® B/ P.40 | B / 130 °C | | Silicone | Polyester |
| SynTape® AL.50 | -40 up to +150°C | | Acrylate | Aluminium |
| SynTape® AS.050 | -50 up to +150 °C | | Acrylate | Aluminium |
| SynTape® AL.080 | -40 up to +150°C | | Acrylate | Aluminium |
| SynTape® AS.080 | -40 up to +150°C | | Acrylate | Aluminium |
| SynTape® B/ PM.099 | B / 130 °C | | Acrylate | Polyester, aluminium metalised |
| SynTape® TF.50 | H / 180 °C | | Silicone | Teflon |
| SynTape® TFE.130 | H / 180 °C | | Silicone | Teflon |
| SynTape® B/ P.231 | B / 130 °C | Double sided | Rubber | Polyester |
| 3M™ no. 92 | H / 180 °C | | Silicone | Polyimide |
| 3M™ no. 27 | B / 130 °C | | Rubber | Glass fibre |
| 3M™ no. 69 | H / 180 °C | | Silicone | Glass fibre |
| SynTape® 1695 | -15 up to +130 °C | | Acrylate | Polyester |
| 3M™ No. SUPER 10 | F / 155 °C | | Rubber | Polyester |
| SynTape® TRB16 Eco | | | Acrylate | |
| SynTape® TRB19 Optimo | | | Acrylate | |
| SynTape® F/ X.50 | F / 155 °C | | Acrylate | Aramid, Nomex® |
| SynTape® H/ 301 | H / 180 °C | | Silicone | Polyimide |
| Intertape® 54113 | B / 130 °C | | Acrylate | Polyester |
| Intertape® 54108 | B / 130 °C | | Rubber | Polyester |
| Intertape® 51599 | B / 130 °C | | Rubber | Polyester, Polyester glass filament reinforced |
| Intertape® 51597 | F / 155 °C | | Acrylate | Polyester, Polyester glass filament reinforced |
| Intertape® 51594 | B / 130 °C | | Rubber | Polyester |
| Intertape® 51589 | B / 130 °C | | Acrylate | Polyester |
| Intertape® 51588 | B / 130 °C | | Rubber | Polyester |
| Intertape® 51587 | B / 130 °C | | Rubber | Polyester |
| Intertape® 51579 | F / 155 °C | | Acrylate | Polyimide |
| Isotape® 4638PV3 | N / 200 °C | | Silicone | Glass fibre |
| Intertape® 4618 | N / 200 °C | | Silicone | Glass fibre |
| Intertape® 4617 | F / 155 °C | | Acrylate | Glass fibre |
| Isotape® 4627 | F / 155 °C | | Rubber | Glass fibre |
| Isotape® 4560PV3 | B / 130 °C | | Rubber | Acetate fabric |
| Intertape® 4560 | B / 130 °C | | Rubber | Acetate fabric |
| Intertape® 4429 | H / 180 °C | | Silicone | Polyimide |
| Isotape® 4428PV3-32 | N / 200 °C | | Silicone | Polyimide |
| Isotape® 4428PV3 | N / 200 °C | | Silicone | Kapton® |
| Intertape® 4427 | B / 130 °C | Laminate | Rubber | Polyester, Rope fibre |
| Intertape® 4426 | B / 130 °C | Laminate | Rubber | Polyester, Rope fibre |
| Intertape® 4238 | F / 155 °C | | Acrylate | Polyester, Polyester glass filament reinforced |
| Isotape® 56228PV3 S | F / 155 °C | | Silicone | Nomex® 464 |
| Isotape® 56228PV3 | F / 155 °C | | Acrylate | Nomex® 464, Nomex® |
| Isotape® 54965PV3 | | Double sided | Acrylate | Polyester |
| Isotape® 54657PV3 | | | Rubber | Fibre tape |
| Isotape® 52403 | F / 155 °C | Laminate | Acrylate | Paper, Rope fibre |
| Isotape® 52204 | | Double sided | Acrylate | Polyester non-woven |
| Isotape® 51600PV3 | B / 130 °C | | Acrylate | Polyester |
| Intertape® 51596 | B / 130 °C | Laminate | Rubber | Polyester, Polyester non-woven |
| Intertape® 51595 | F / 155 °C | Laminate | Acrylate | Polyester, Polyester non-woven |
| Isotape® 51350PV3 | B / 130 °C | | Acrylate | Polyester |
| Isotape® 51324 | 80 °C | | Rubber | Crepe paper |
| Isotape® 51044PV3 | B / 130 °C | Laminate | Acrylate | Polyester, Polyester non-woven |
| Isotape® 6215PV3 | B / 130 °C | | Silicone | Polyester |
| Isotape® 4637PV3T-3 | F / 155 °C | | Acrylate | Glass fibre |
| Isotape® 4637PV3 | F / 155 °C | | Acrylate | Glass fibre |
| Isotape® 4419PV3 | N / 200 °C | | Silicone | Polyimide |
| Isotape® 4350PV3 | F / 155 °C | Laminate | Acrylate | Nomex®, Polyester |
| Isotape® 4239 | F / 155 °C | | Acrylate | Polyester glass filament reinforced |
| Isotape® 4238PV3 | F / 155 °C | | Acrylate | Polyester, Glass fibre |
| Intertape® 4564 | B / 130 °C | | Acrylate | Polyester non-woven |
| Intertape® 4237 | F / 155 °C | | Acrylate | Polyester, Polyester glass filament reinforced |
| Intertape® 4118 | H / 180 °C | | Silicone | Kapton® |
| Intertape® 4616 | F / 155 °C | | Rubber | Glass fibre |
| Isotape® 51350PV3-2 | B / 130 °C | | Acrylate | Polyester |
| Isotape® 51579PV3 | F / 155 °C | | Acrylate | Polyimide |
| 3M™ no. 4646F | | Double sided | Acrylate | Acrylic foam |
| SynTape® H/660 | | | | |
| Textile Braided Sleeving F/GS-R SV6 UL | | | | |