SynTape®, Intertape®, Isotape®
Electrical adhesive tapes of strong brands
Adhesive tapes are used very differently in the electrical industry. Their main task is the electrical insulation and mechanical protection of current-carrying components, whereby the electrical adhesive tapes become a safety-relevant component. They protect individual components from electric shock both to each other and to the environment.
We offer you various brands of best quality.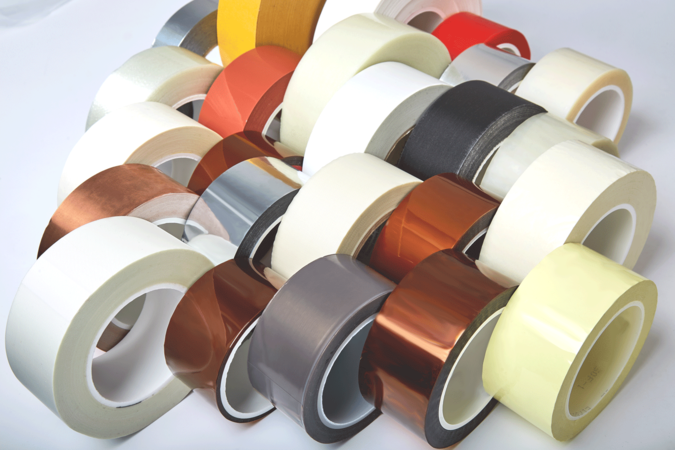 SynTape®
Electrical adhesive tapes versatile in use
Adhesive tapes are used very differently in the electrical industry. In addition to protecting against mechanical stress, they are also used for bundling or marking.
You can choose between different material combinations and adhesive types to ensure that our adhesive tapes exactly meet your requirements.
SynTape® electrical adhesive tapes
Intertape®
Electrical adhesive tapes for demanding applications
Electrical adhesive tapes of the brand Intertape® are used in the electric and electronic industry for most demanding applications. Various material combinations allow a high variance in use. Intertape® electrical adhesive tapes are used from simple marking to electrical insulation. Adhesive tapes have to withstand high loads.
They are manufactured according to the strictest standards and tested for their reliability.
Intertape® electrical adhesive tapes
Isotape®
Adhesive tapes for electrical insulation
The requirements for adhesive tapes in the electrical and electronics industry are manifold and range from marking and fixing to electrical insulation. The selection of the right adhesive tape always depends on the individual application. With Isotape® we offer you a wide range of different backing materials and adhesive coatings to meet the exact requirements of your industry.
Isotape® electrical adhesive tapes
Electrical adhesive tapes of best quality – with UL certification, on request

For decades we have been selling and producing electrical adhesive tapes and in the past years we have concentrated in particular on customer-specific converting of self-adhesive tapes of all kinds. For this purpose we constantly expanded the production site in Schramberg/ Germany that is part of the SynFlex Group. Today it has state-of-the-art production facilities, automated manufacturing processes and comprehensive testing facilities.
In our in-house laboratory SynLab® we carry out many analyses and tests and thus guarantee the best quality. Just like Isotape® and Intertape® electrical adhesive tapes, also some of our SynTape® adhesive tapes have UL certification. If you require further testing, please contact our experts at SynLab®.
In addition to material analyses and life cycle measurements, we offer a broad portfolio of tests and measuring methods to ensure the quality of the materials. We also support you with new approvals, extensions or adaptations of existing UL systems.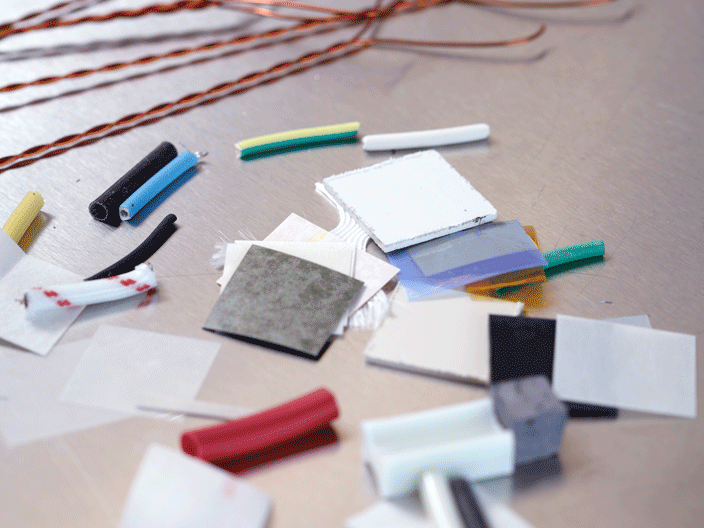 Reliable and individual in use
Typical use for our electrical adhesive tapes is in electric motors, transformers and generators. But there is also a variety of application in other industries.
In medical technology, our acetate fabric tapes are used, among other things, for taping cable harnesses in medical end devices. Our factory in Schramberg produces blanks made of the copper adhesive tape Scut.36 2560 for EMC protection.
Use of adhesive tapes in the automotive industry is versatile. Besides cable bandages or electrical insulation, the adhesive tapes serve as surface protection and sound insulation.
For cleaning the pads SynFlex offers you two different pad cleaning tapes, called TRB16 Eco and TRB19 Optimo that reliably remove dirt and remaining colour without leaving any adhesive residues.
Especially non-woven polyester adhesive tapes with acrylic adhesive are suitable for vibration protection in white goods. For this purpose we recommend SynTape® F/PT.20-20 or Intertape® 51595. In addition, various adhesive tapes are suitable for cable bandages or as edge protection.
Adhesive polyester tapes of our range are used as surface protection in soldering baths or as protection during impregnating processes to avoid contamination of non-processed surfaces. After the processing step, the adhesive tape can be removed without residue due to the silicone adhesive and you save subsequent cleaning.
Product range
SynTape®, Intertape®, Isotape®
| Product | Heat class | Type | Adhesive | Backing / Material |
| --- | --- | --- | --- | --- |
| SynTape® B 113/ P.34 | B / 130 °C | | Acrylate | Polyester |
| SynTape® B 107/ P.31 | B / 130 °C | | Rubber | Polyester |
| 3M™ no. 5 | B / 130 °C | | Acrylate | Polyester |
| SynTape® B/ P.47 | B / 130 °C | | Silicone | Polyester |
| SynTape® B/ P.355 | B / 130 °C | | Acrylate | Polyester |
| 3M™ no. 1350F-2 | B / 130 °C | | Acrylate | Polyester |
| SynTape® B 108/ P.315 | B / 130 °C | | Rubber | Polyester |
| SynTape® B/ P.42 | B / 130 °C | | Silicone | Polyester |
| SynTape® F/ PVX.30 | F / 155 °C | | Acrylate | Polyester, Glass fibre |
| SynTape® B/ PR.25 | B / 130 °C | | Rubber | Polyester, Glass fibre |
| SynTape® F/ PS.25 | F / 155 °C | | Acrylate | Polyester, Glass fibre |
| SynTape® F/ PS.30 | F / 155 °C | | Acrylate | Polyester, Glass fibre |
| Syntape® B/ PR.30 | B / 130 °C | | Rubber | Polyester, Glass fibre |
| SynTape® F/ PT.20-20 | F / 155 °C | | Acrylate | Polyester, Polyester non-woven |
| SynTape® F 131/ PT.40 | F / 155 °C | | Acrylate | Polyester, Polyester non-woven |
| SynTape® B/ PT.25 | B / 130 °C | | Rubber | Polyester, Polyester non-woven |
| SynTape® B/ PT.45 | B / 130 °C | | Rubber | Polyester, Polyester non-woven |
| SynTape® B 354/ R.180 | B / 130 °C | | Rubber | Polyester, Paper |
| SynTape® B 616/ GL.95 | B / 130 °C | | Rubber | Glass fibre |
| 3M™ No. 1350F-1 | B / 130 °C | | Acrylate | Polyester |
| SynTape® F 562/ GL.94 | F / 155 °C | | Acrylate | Glass fibre |
| 3M™ no. 79 | F / 155 °C | | Acrylate | Glass fibre |
| SynTape® H 618/ GL.96 | H / 180 °C | | Silicone | Glass fibre |
| SynTape® H/ GL.99 | H / 180 °C | | Silicone | Glass fibre |
| SynTape® A/ CP.50 | A / 105 °C | | Rubber | Crepe paper |
| SynTape® F 118/ H.20AC | F / 155 °C | | Acrylate | Kapton® |
| SynTape® F/ H.50AC | F / 155 °C | | Acrylate | Kapton® |
| SynTape® H 428/ H.20 | H / 180 °C | | Silicone | Polyimide |
| SynTape® H/ H.50 | H / 180 °C | | Silicone | Polyimide |
| SynTape® H/ 560 | H / 180 °C | | Silicone | Polyimide |
| SynTape® A16-320 | | | Acrylate | Non-woven |
| SynTape® F/ PX.50 | F / 155 °C | | Rubber | Polyester, Aramid |
| SynTape® F/ K.30AC | F / 155 °C | | Acrylate | PEN |
| SynTape® H/ K.30 | H / 180 °C | | Silicone | PEN |
| SynTape® F/ PX.11/18/23 | F / 155 °C | | Acrylate | Polyester, Aramid |
| SynTape® F/ X.80 | F / 155 °C | | Acrylate | Aramid |
| SynTape® A 560/ CA.100 | A / 105 °C | | Rubber | Acetate fabric |
| 3M™ no. 1181 | | | Acrylate | Copper |
| SynTape® SCUT 36 | -40 up to +120 °C | | Acrylate | Copper |
| SynTape® B/ P.40 | B / 130 °C | | Silicone | Polyester |
| SynTape® AL.50 | -40 up to +150°C | | Acrylate | Aluminium |
| SynTape® AS.50 | -50 up to +150 °C | | Acrylate | Aluminium |
| SynTape® AL.080 | -40 up to +150°C | | Acrylate | Aluminium |
| SynTape® AS.080 | -40 up to +150°C | | Acrylate | Aluminium |
| SynTape® B/ PM.099 | B / 130 °C | | Acrylate | Polyester |
| SynTape® TF.50 | H / 180 °C | | Silicone | Teflon |
| SynTape® TFE.130 | H / 180 °C | | Silicone | Teflon |
| SynTape® B/ P.231 | | | | |
| 3M™ no. 92 | H / 180 °C | | Silicone | Polyimide |
| 3M™ no. 27 | B / 130 °C | | Rubber | Glass fibre |
| 3M™ no. 69 | H / 180 °C | | Silicone | Glass fibre |
| SynTape® F/ RX.50 | F / 155 °C | | Rubber | Nomex® |
| SynTape® 1695 | -15 up to +130 °C | | Acrylate | Polyester |
| 3M™ No. SUPER 10 | F / 155 °C | | Rubber | Polyester |
| SynTape® TRB16 Eco | | | Acrylate | |
| SynTape® TRB19 Optimo | | | Acrylate | |
| SynTape® F/ X.50 | F / 155 °C | | Acrylate | Aramid |
| SynTape® H/ 301 | | | | Polyimide |
| Intertape® 54113 | B / 130 °C | | Acrylate | Polyester |
| Intertape® 54108 | B / 130 °C | | Rubber | Polyester |
| Intertape® 51599 | B / 130 °C | | Rubber | Polyester |
| Intertape® 51597 | F / 155 °C | | Acrylate | Polyester |
| Intertape® 51594 | B / 130 °C | | Rubber | Polyester |
| Intertape® 51589 | B / 130 °C | | Acrylate | Polyester |
| Intertape® 51588 | B / 130 °C | | Rubber | Polyester |
| Intertape® 51587 | B / 130 °C | | Rubber | Polyester |
| Intertape® 51579 | F / 155 °C | | Acrylate | Polyimide |
| Isotape® 4638PV3 | N / 200 °C | | Silicone | Glass fibre |
| Intertape® 4618 | N / 200 °C | | Silicone | Glass fibre |
| Intertape® 4617 | F / 155 °C | | Acrylate | Glass fibre |
| Isotape® 4627 | F / 155 °C | | Rubber | Glass fibre |
| Isotape® 4560PV3 | B / 130 °C | | Rubber | Acetate fabric |
| Intertape® 4560 | | | | Acetate fabric |
| Intertape® 4429 | H / 180 °C | | Silicone | Polyimide |
| Isotape® 4428PV3-32 | N / 200 °C | | Silicone | Polyimide |
| Isotape® 4428PV3 | N / 200 °C | | Silicone | Polyimide |
| Intertape® 4427 | B / 130 °C | | Rubber | Polyester |
| Intertape® 4426 | B / 130 °C | | Rubber | Polyester |
| Intertape® 4238 | F / 155 °C | | Acrylate | Polyester |
| Isotape® 56228PV3 S | F / 155 °C | | Silicone | Nomex® 464 |
| Isotape® 56228PV3 | F / 155 °C | | Acrylate | Nomex® 464 |
| Isotape® 54965PV3 | | | Acrylate | Polyester |
| Isotape® 54657PV3 | | | Rubber | Fibre tape |
| Isotape® 54574 | | | Rubber | Glass fibre, Polypropylene |
| Isotape® 52403 | F / 155 °C | | Acrylate | Cotton - glass fibre reinfored paper |
| Isotape® 52204 | | | Acrylate | Polyester non-woven |
| Isotape® 51600PV3 | B / 130 °C | | Acrylate | Polyester |
| Intertape® 51596 | B / 130 °C | | Rubber | Polyester |
| Intertape® 51595 | F / 155 °C | | Acrylate | Polyester |
| Isotape® 51350PV3 | B / 130 °C | | Acrylate | Polyester |
| Isotape® 51324 | 80 °C | | Rubber | Crepe paper |
| Isotape® 51044PV3 | F / 155 °C | | Acrylate | Polyester |
| Isotape® 6215PV3 | B / 130 °C | | Silicone | Polyester |
| Isotape® 4637PV3T-3 | F / 155 °C | | Acrylate | Glass fibre |
| Isotape® 4637PV3 | F / 155 °C | | Acrylate | Glass fibre |
| Isotape® 4419PV3 | N / 200 °C | | Silicone | Polyimide |
| Isotape® 4350PV3 | F / 155 °C | | Acrylate | Nomex® |
| Isotape® 4239 | F / 155 °C | | Acrylate | Glass fibre reinforced polyester |
| Isotape® 4238PV3 | F / 155 °C | | Acrylate | Glass fibre reinforced polyester |
| Intertape® 4564 | B / 130 °C | | Acrylate | Polyester |
| Intertape® 4237 | F / 155 °C | | Acrylate | Polyester |
| Intertape® 4118 | H / 180 °C | | Silicone | Kapton® |
| Intertape® 4616 | F / 155 °C | | Rubber | Glass fibre |
| Isotape® 51350PV3-2 | B / 130 °C | | Acrylate | Polyester |
| Isotape® 51579PV3 | F / 155 °C | | Acrylate | Polyimide |
| 3M™ no. 4646F | | | | |
| Isotape® 54354 | B / 130 °C | Laminate | Rubber | Polyester, Paper |
| SynTape® H/660 | | | | |
| Textile Braided Sleeving F/GS-R SV6 UL | | | | |