SynWire
All-embracing range of enamelled copper and aluminium wires
Diameters of enamelled copper wires and tolerances of electrical resistance are important factors in the design of electric motors, transformers and generators.
In addition to a wide variety of materials for electrical insulation systems, we have also been offering enamelled wires for over 50 years, tailored to your individual needs.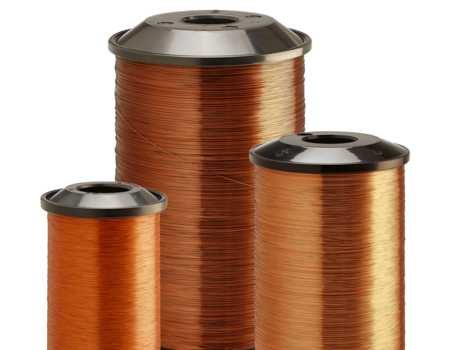 Our enamelled copper wires for your project
Enamelled copper wires, round:
You can choose from a wide SynWire range of dimensions and properties: Among others, diameters from 0.053 to 6.00 mm, solderable, thermo-resistant, self-bonding or self-lubricating.
Enamelled aluminium wires, round:
Also, round enamelled aluminium wires are part of the product range – standard dimensions between 0.4 mm to 1.12 mm. Do you require other dimensions? Just contact us.
Flat wires:
Flat enamelled wires are available in more than 300 different dimensions – from 2.0 × 0.8 to 20.0 × 5.0 mm, copper or aluminium.
Self-bonding wires:
Our self-bonding wires with an additional thermosetting layer on basis polyamide can be bonded by heat or solvent. This gives the windings greater thermal and mechanical stability as well as chemical resistance. Impregnation with an impregnating agent or potting compound is thus no longer necessary.
Self-lubricating winding wires:
For improved wire-friendly processing, we have developed a wire in which the top coating layer is also a low-friction functional layer. As a result, the winding wire can be wound excellently, there is less equipment contamination and less mechanical stress in the winding process. The higher gliding properties also have a demonstrably positive effect on the insulation properties of the coating film. Furthermore, you achieve significantly higher filling factors in your application since the winding wires are distributed perfectly and there is no need to apply paraffin.
Covered enameled wires:
Apart from the many different enamelled copper and aluminium wire specifications, many customers have demand for covered wires in various dimensions. Our flexible in-house production is designed to meet these requirements – additional benefit is our know-how in the field of insulating materials. For more information, explore the range of SynWire WW litz and special wires and discover the versatile options and materials of the range of SynTherm® insulating materials.
Regardless of whether you use enamelled copper wires for your project that meet common requirements or whether you need a custom-made product: Please feel free to contact us - we will advise you on your options.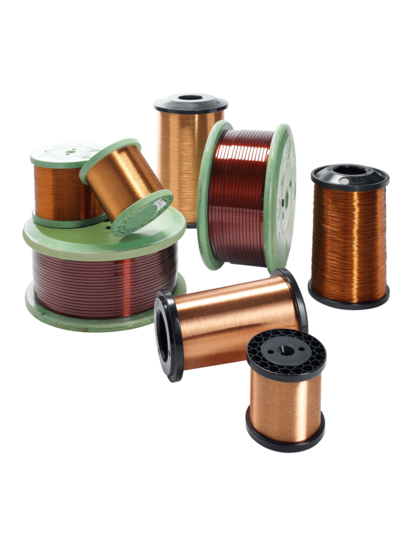 Product range
SynWire Winding Wires
Our specialties

SynWire winding wires
SynWire W200, Copper wire round, enamelld
SynWire W210 TE, Copper wire round, partial discharge resistant
SynWire W210 Winding wire, aluminium, round, enamelled
SynWire W220 Copper wire, round, enamelled
SynWire Winding wire, Aluminium flat, enamelled
SynWire Copper wire, flat, bare
SynWire Copper wire, round, bare
SynWire Winding wire, Aluminium, flat, bare
SynWire Winding wire, Aluminium, round, bare
SynWire WV 180, Copper wire, enamelled, round
SynWire W200 Copper wire, enamelled,self-bonding, flat