SynCon® – Connecting Cables & Transformer Terminals SynCon® VTRK 4-Si
The VTRK 4-Si has been specially developed for connecting molded safety transformers conforming to IEC 742/EN 60 742 / DIN VDE 0551-1 for low voltage halogen lamps. Mounting is considerably facilitated by this new development. This connection technology enables molding of the transformer to the terminal. A connection cross section of 4mm² can be realised for supply and return lines, despite the low height of only 12.4 mm.
The VTRKZ 4-Si terminal variant is also equipped with a solid strain relief element. In addition to this, two fuse terminal block variants are available to protect the transformers.
The VTRKZ 4-Si acts as the primary transformer protection, and the VTRKZ 4-Si/C protects secondary power circuits with max. 32 V. Both terminals are also available as special variants with LED displays.
The molded housing has a wall thickness of 1.2 to 1.9 mm.
The VTRK 4 and VTRKZ 4 are individually labelled with BN Zack strip.
Download datasheet
Technical drawing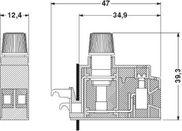 Technical data
| Property | Unit of measure | VTRK 4-Si |
| --- | --- | --- |
| Design | | fuse plug 5mm x 20 mm |
| Rated cross section | mm² | 4 |
| Max. Strombelastbarkeit | A | determined by fuse |
| Rated voltage | V | only possible with transformer |
| Rated insulation voltage | V | 250 |
| Rated surge voltage / Contamination class | kV / - | 4/3 |
| Surge voltage category/Insulation material group | | III / III |
| Property | Unit of measure | VTRK 4-Si |
| --- | --- | --- |
| Nominal current | A | 10 |
| Rated voltage | V | |
| AWG | kcmil | 24-10 |
| Property | Unit of measure | VTRK 4-Si |
| --- | --- | --- |
| Rated voltage | V | |
| AWG | kcmil | |
| Nominal current | A | |
| Property | Unit of measure | VTRK 4-Si |
| --- | --- | --- |
| Strand cross section rigid min | mm² | 0.2 |
| Strand cross section rigid max | mm² | 6 |
| Strand cross section flexible min | mm² | 0.2 |
| Strand cross section flexible max | mm² | 4 |
| Strand cross section with AEH min | mm² | 0.25 |
| Strand cross section with AEH max | mm² | 1.5 |
| 2 strands equal cross section rigid min | mm² | 0.2 |
| 2 strands equal cross section rigid max | mm² | 1.5 |
| 2 strands equal cross section flexible min | mm² | 0.2 |
| 2 strands equal cross section flexible max | mm² | 1.5 |
| 2 strands equal cross section with TWIN-AEH min | mm² | 0.5 |
| 2 strands equal cross section with TWIN-AEH max | mm² | 2.5 |
| Number of connections | | 4 |
| Connection type | | screw connection |
| Stripping length | mm | 8 |
| Thread | | M3 |
| Torque | Nm | 0.6-0.8 |
| Property | VTRK 4-Si |
| --- | --- |
| Insulation material | PA |
| Inflammability class acc. to UL 94 | V0 |
| Contact surface | tin-plated |
| Property | VTRK 4-Si |
| --- | --- |
| Colour | green-yellow |