SynCon® – Connecting Cables & Transformer Terminals SynCon® ZTRK 4, ZTRK 4/2 and ZTRK 4/3
The ZTRK 4 terminal with spring-cage connection and the SI-TRK fuse holder were developed for both direct mounting on bobbins with integrated mounting compartments and snap mounting on 2 x 10 mm und 2 x 35 mm aluminium transformer rails. The terminals cover the cross section range from 0.2 mm² to 4.0 mm².
A green/yellow variant without metallic contact to the contact surface and a fuse terminal block with identical shape are also available.
The terminal has a practical 2.3 mm test hole designed for the test plug. The SIH-TRK fuse holder can accommodate a 5 x 20 mm replacement fuse directly on the transformer.
Download datasheet
Technical drawing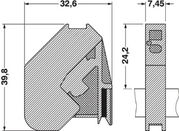 Technical data
| Property | Unit of measure | ZTRK 4 | ZTRK 4/2 | ZTRK 4/3 |
| --- | --- | --- | --- | --- |
| Design | | mounting rail or bobbin | mounting rail or bobbin | mounting rail or bobbin |
| Rated cross section | mm² | 4 | 4 | 4 |
| Max. Strombelastbarkeit | A | 32 | 32 | 32 |
| Rated voltage | V | only possible with transformer | only possible with transformer | only possible with transformer |
| Rated insulation voltage | V | 630 | 630 | 630 |
| Rated surge voltage / Contamination class | kV / - | 6 / 3 | 6 / 3 | 6/3 |
| Surge voltage category/Insulation material group | | 3/III | 3/III | 3/III |
| Property | Unit of measure | ZTRK 4 | ZTRK 4/2 | ZTRK 4/3 |
| --- | --- | --- | --- | --- |
| Rated voltage | V | 600 | 600 | 600 |
| Nominal current | A | 32 | 32 | 32 |
| AWG | kcmil | 24-10 | 24-10 | 24-10 |
| Property | Unit of measure | ZTRK 4 | ZTRK 4/2 | ZTRK 4/3 |
| --- | --- | --- | --- | --- |
| Rated voltage | V | 600 | 600 | 600 |
| Nominal current | A | 30 | 30 | 30 |
| AWG | kcmil | | | |
| Property | Unit of measure | ZTRK 4 | ZTRK 4/2 | ZTRK 4/3 |
| --- | --- | --- | --- | --- |
| Strand cross section rigid min | mm² | 0.2 | 0.2 | 0.2 |
| Strand cross section rigid max | mm² | 4 | 4 | 4 |
| Strand cross section flexible min | mm² | 0.2 | 0.2 | 0.2 |
| Strand cross section flexible max | mm² | 4 | 4 | 4 |
| Strand cross section with AEH min | mm² | 0.25 | 0.25 | 0.25 |
| Strand cross section with AEH max | mm² | 4 | 4 | 4 |
| 2 strands equal cross section rigid min | mm² | | | |
| 2 strands equal cross section rigid max | mm² | | | |
| 2 strands equal cross section flexible min | mm² | | | |
| 2 strands equal cross section flexible max | mm² | | | |
| 2 strands equal cross section with TWIN-AEH min | mm² | 0.5 | 0.5 | 0.5 |
| 2 strands equal cross section with TWIN-AEH max | mm² | 1 | 1 | 1 |
| Number of connections | | 2 | 2 | 2 |
| Connection type | | spring-cage | spring-cage | spring-cage |
| Stripping length | mm | 12 | 12 | 12 |
| Thread | | | | |
| Torque | Nm | | | |
| Property | ZTRK 4 | ZTRK 4/2 | ZTRK 4/3 |
| --- | --- | --- | --- |
| Insulation material | PA | PA | PA |
| Inflammability class acc. to UL 94 | V0 | V0 | V0 |
| Contact surface | tin-plated | tin-plated | tin-plated |
| Property | ZTRK 4 | ZTRK 4/2 | ZTRK 4/3 |
| --- | --- | --- | --- |
| Colour | orange | orange | orange |