SynPrep
Stamped & Shaped Components
SynFlex offers a wide range of stampings and preformed parts: as rolls (with remnants removed), component parts, single- and double-sided adhesive or non-adhesive, with or without grip handle, printed or plain.
We cut, stamp, mill and saw preformed parts, or produce them using water jet cutting.
The fields of application are as versatile as the cut pieces themselves. Customers come from the automotive industry, the electrical and electronic industries, medical and shielding technologies and communication and information technologies. You simply provide us with drawings, sketches, CAD graphics or explain your ideas. We will then work with you to find the matching solution.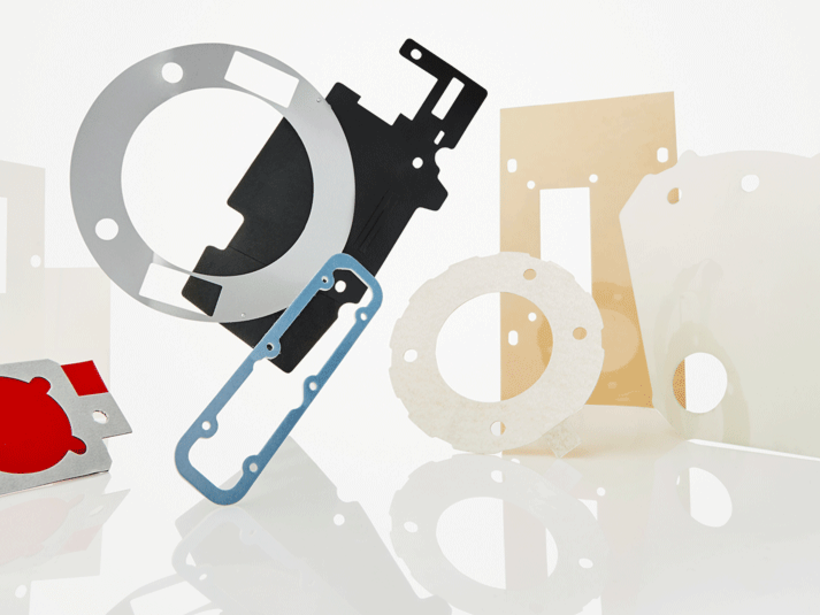 Our production for stamped & shaped Components
Example: Male-female punching unit
What happens during the manufacturing process?
What does this manufacturing process actually stand for? Instead of punching mainly against a plate, as was previously the case, we can now offer you the advantages of an interlocking die. Depending on the design the male-female tool actively removes the waste pieces from the punching zone, thus reliably preventing contamination of the product.
With part sizes up to 140 x 140 mm in male-female punching operation and up to 200 x 300 mm for mere punching operations, we cover almost all market requirements with this next stage in manufacturing processes. Challenge us with even more complex components!
Example: Laser cutting
What is laser cutting?
Our all-in-one system is specifically designed for processing roll materials. The production center has a technically sophisticated and complex laser with cutting, marking and micro-perforating functions as well as a separate laminating and grid-off station. Paper, PET film, polypropylene film and Teonex®, to mention only few materials that can be processed on the machine.
slot insulation
mechanical stabilization
mechanical protection
phase insulations
field coil insulation
anchor insulation
punchings
individual parts
adhesive, single- or double-sided
with and without a grip handle
bent components
cut pieces
rolled products
feathering
PET films, PI films (e.g. SynTherm® H)
aramid papers (e.g. SynTherm® YT510)
foams made of PUR e.g.
fleece made of polyester e.g.
fabric made of rayon staple e.g.
laminates made of various materials
such as DMD, VPV, APA, AHA
pressboard
polycarbonate
PMMA
metals such as copper, aluminum
mineral materials such as graphite, e.g.
and many other materials