SynTape®
Our electrical adhesive tapes -
versatile in use
Adhesive tapes are used very differently in the electrical industry. Their main task is the electrical insulation of current-carrying components, whereby the electrical adhesive tapes become a safety-relevant component. They protect individual components from electric shock both to each other and to the environment. In addition to protecting against mechanical stress, they are also used for bundling or marking.
You can choose between different material combinations and adhesive types to ensure that our adhesive tapes exactly meet your requirements.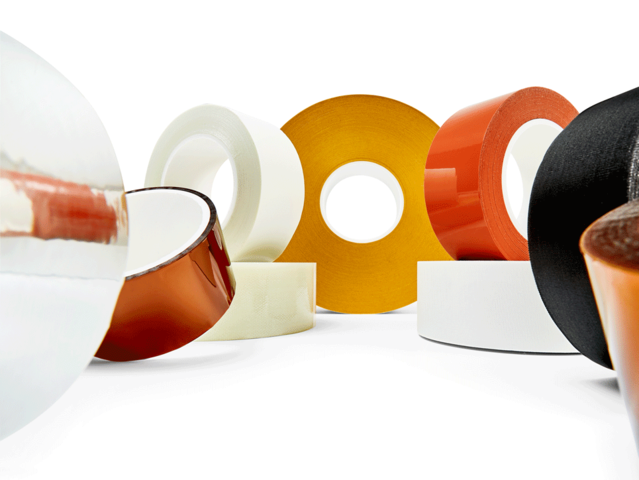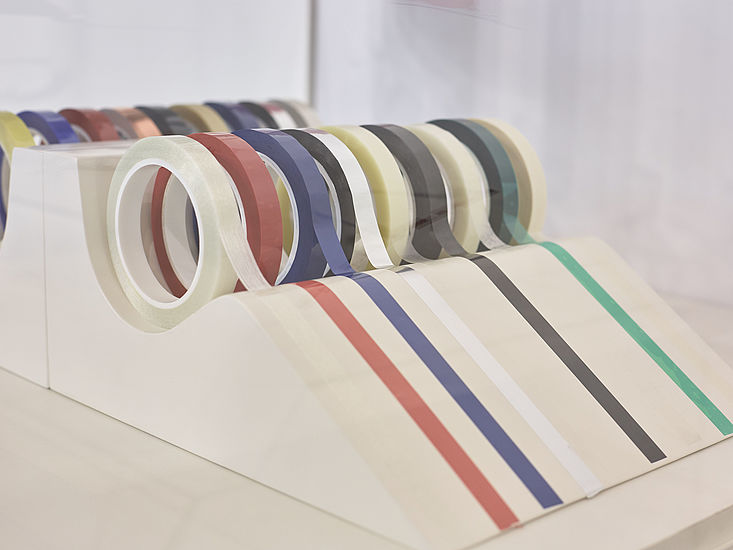 First-class quality electrical adhesive tapes
For decades we have been selling and producing electrical adhesive tapes and in the past years we have concentrated in particular on customer-specific converting of self-adhesive tapes of all kinds. For this purpose we constantly expanded the production site in Schramberg/ Germany that is part of the SynFlex Group. Today it has state-of-the-art production facilities, automated manufacturing processes and comprehensive testing facilities.
Analyses and tests are conducted in our in-house laboratory SynLab®, thus ensuring first-class quality. Some of our SynTape® adhesive tapes also have UL certification. In addition, based on our cooperation with UL in compliance with the UL Third Party Test Data Program we support you with new listings, upgradings or adoption of existing UL systems.
| Product | Heat class | Adhesive | Backing / Material |
| --- | --- | --- | --- |
| SynTape® B 113/ P.34 | B / 130 °C | Acrylate | Polyester |
| SynTape® B 107/ P.31 | B / 130 °C | Rubber | Polyester |
| 3M™ no. 5 | B / 130 °C | Acrylate | Polyester |
| SynTape® B/ P.47 | B / 130 °C | Silicone | Polyester |
| SynTape® B/ P.355 | B / 130 °C | Acrylate | Polyester |
| 3M™ no. 1350F-2 | B / 130 °C | Acrylate | Polyester |
| SynTape® B 108/ P.315 | B / 130 °C | Rubber | Polyester |
| SynTape® B/ P.42 | B / 130 °C | Silicone | Polyester |
| SynTape® F/ PVX.30 | F / 155 °C | Acrylate | Polyester, Glass fibre |
| SynTape® B/ PR.25 | B / 130 °C | Rubber | Polyester, Glass fibre |
| SynTape® F/ PS.25 | F / 155 °C | Acrylate | Polyester, Glass fibre |
| SynTape® F/ PS.30 | F / 155 °C | Acrylate | Polyester, Glass fibre |
| Syntape® B/ PR.30 | B / 130 °C | Rubber | Polyester, Glass fibre |
| SynTape® F/ PT.20-20 | F / 155 °C | Acrylate | Polyester, Polyester non-woven |
| SynTape® F 131/ PT.40 | F / 155 °C | Acrylate | Polyester, Polyester non-woven |
| SynTape® B/ PT.25 | B / 130 °C | Rubber | Polyester, Polyester non-woven |
| SynTape® B/ PT.45 | B / 130 °C | Rubber | Polyester, Polyester non-woven |
| SynTape® B 354/ R.180 | B / 130 °C | Rubber | Polyester, Paper |
| SynTape® B 616/ GL.95 | B / 130 °C | Rubber | Glass fibre |
| 3M™ No. 1350F-1 | B / 130 °C | Acrylate | Polyester |
| SynTape® F 562/ GL.94 | F / 155 °C | Acrylate | Glass fibre |
| 3M™ no. 79 | F / 155 °C | Acrylate | Glass fibre |
| SynTape® H 618/ GL.96 | H / 180 °C | Silicone | Glass fibre |
| SynTape® H/ GL.99 | H / 180 °C | Silicone | Glass fibre |
| SynTape® A/ CP.50 | A / 105 °C | Rubber | Crepe paper |
| SynTape® F 118/ H.20AC | F / 155 °C | Acrylate | Kapton® |
| SynTape® F/ H.50AC | F / 155 °C | Acrylate | Kapton® |
| SynTape® H 428/ H.20 | H / 180 °C | Silicone | Polyimide |
| SynTape® H/ H.50 | H / 180 °C | Silicone | Polyimide |
| SynTape® H/ 560 | H / 180 °C | Silicone | Polyimide |
| SynTape® A16-320 | | Acrylate | Non-woven |
| SynTape® F/ PX.50 | F / 155 °C | Rubber | Polyester, Aramid |
| SynTape® F/ K.30AC | F / 155 °C | Acrylate | PEN |
| SynTape® H/ K.30 | H / 180 °C | Silicone | PEN |
| SynTape® F/ PX.11/18/23 | F / 155 °C | Acrylate | Polyester, Aramid |
| SynTape® F/ X.80 | F / 155 °C | Acrylate | Aramid |
| SynTape® A 560/ CA.100 | A / 105 °C | Rubber | Acetate fabric |
| 3M™ no. 1181 | | Acrylate | Copper |
| SynTape® SCUT 36 | -40 up to +120 °C | Acrylate | Copper |
| SynTape® B/ P.40 | B / 130 °C | Silicone | Polyester |
| SynTape® AL.50 | -40 up to +150°C | Acrylate | Aluminium |
| SynTape® AS.50 | -50 up to +150 °C | Acrylate | Aluminium |
| SynTape® AL.080 | -40 up to +150°C | Acrylate | Aluminium |
| SynTape® AS.080 | -40 up to +150°C | Acrylate | Aluminium |
| SynTape® B/ PM.099 | B / 130 °C | Acrylate | Polyester |
| SynTape® TF.50 | H / 180 °C | Silicone | Teflon |
| SynTape® TFE.130 | H / 180 °C | Silicone | Teflon |
| SynTape® B/ P.231 | | | |
| 3M™ no. 92 | H / 180 °C | Silicone | Polyimide |
| 3M™ no. 27 | B / 130 °C | Rubber | Glass fibre |
| 3M™ no. 69 | H / 180 °C | Silicone | Glass fibre |
| SynTape® F/ RX.50 | F / 155 °C | Rubber | Nomex® |
| SynTape® 1695 | -15 up to +130 °C | Acrylate | Polyester |
| 3M™ No. SUPER 10 | F / 155 °C | Rubber | Polyester |
| SynTape® TRB16 Eco | | Acrylate | |
| SynTape® TRB19 Optimo | | Acrylate | |
| SynTape® F/ X.50 | F / 155 °C | Acrylate | Aramid |
| SynTape® H/ 301 | | | Polyimide |