Our electrical adhesive tapes – versatile in use
SynTape®
Adhesive tapes are used very differently in the electrical industry. Their main task is the electrical insulation of current-carrying components, whereby the electrical adhesive tapes become a safety-relevant component. They protect individual components from electric shock both to each other and to the environment. In addition to protecting against mechanical stress, they are also used for bundling or marking.
You can choose between different material combinations and adhesive types to ensure that our adhesive tapes exactly meet your requirements.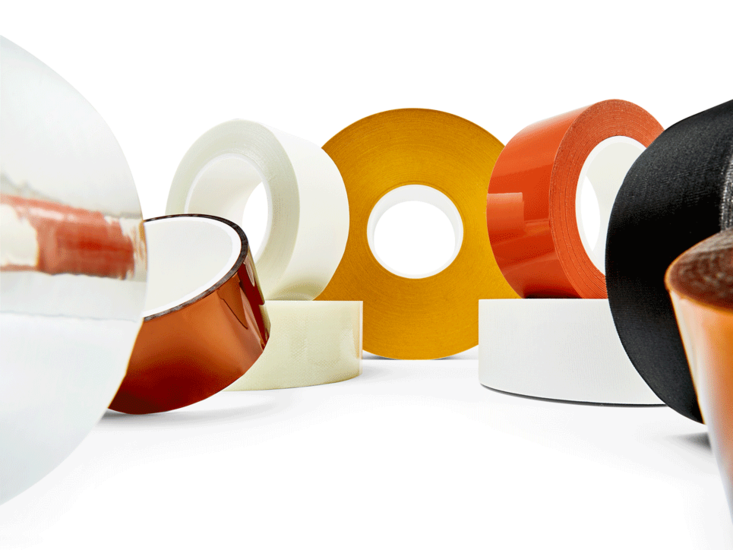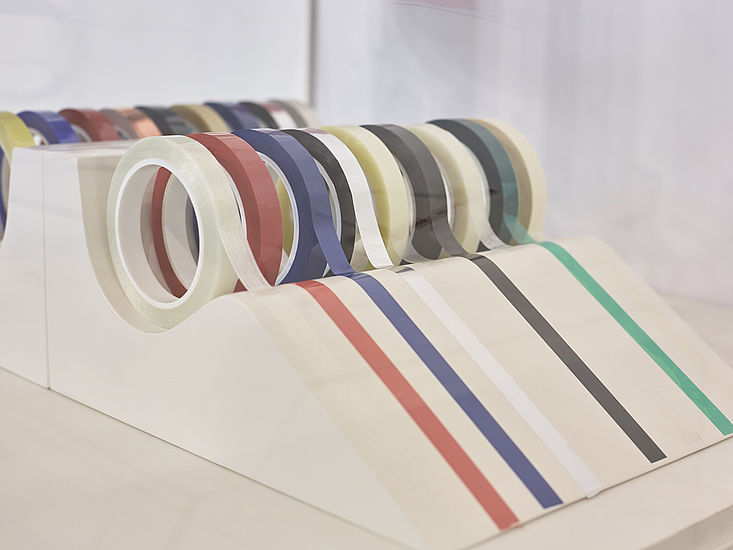 First-class quality electrical adhesive tapes
For decades we have been selling and producing electrical adhesive tapes and in the past years we have concentrated in particular on customer-specific converting of self-adhesive tapes of all kinds. For this purpose we constantly expanded the production site in Schramberg/ Germany that is part of the SynFlex Group. Today it has state-of-the-art production facilities, automated manufacturing processes and comprehensive testing facilities.
Analyses and tests are conducted in our in-house laboratory SynLab®, thus ensuring first-class quality. Some of our SynTape® adhesive tapes also have UL certification. In addition, based on our cooperation with UL in compliance with the UL Third Party Test Data Program we support you with new listings, upgradings or adoption of existing UL systems.
Base materials for electrical adhesive tapes
For our SynTape® electrical adhesive tapes we coat insulation materials such as our aramid paper SynTherm® YT or polyester film SynTherm® P or Mylar® A with an adhesive made of acrylate, rubber or silicone. The properties of the various insulating materials in combination with the respective adhesive result in a completely new, high-tech product which is used in a wide variety of applications in the electrical industry. Depending on the material, tear strength, stability and thermal class of the adhesive tape may be different.
Together we will find the adhesive tape that meets your requirements. Get in touch with us.
Type of adhesive decisive for bonding
We mainly use three types of adhesive for our SynTape® adhesive tapes.
Acrylate adhesives are resistant to temperature and ageing. They are also characterized by their good resistance when used in connection with impregnating agents.
Rubber adhesives have a high initial adhesive strength and can be processed very well. However, they are not resistant to impregnating agents.
Silicone adhesives are characterized by high resistance to temperature and ageing. They are well suited for bonding to anti-adhesive, i.e. poorly adhering surfaces and can be removed without leaving residues.
You are not sure which combination of material and adhesive is the right one for your application? Then contact our experienced team of product managers and sales staff. On request, we will work with you to develop the optimum adhesive tape for your project.
decades of experience in the production of electrical adhesive tapes
state-of-the-art machinery
numerous options of various material combinations
short lead time thanks to the SynFlex Group network
high product availability
| Product | Heat class | Kleber | Träger/Material |
| --- | --- | --- | --- |
| SynTape® B 113/ P.34 | B / 130 °C | Acrylate | Polyester |
| SynTape® B 107/ P.31 | B / 130 °C | Rubber | Polyester |
| 3M™ no. 5 | B / 130 °C | Acrylate | Polyester |
| SynTape® B/ P.47 | B / 130 °C | Silicone | Polyester |
| SynTape® B/ P.355 | B / 130 °C | Acrylate | Polyester |
| 3M™ no. 1350F-2 | B / 130 °C | Acrylate | Polyester |
| SynTape® B 108/ P.315 | B / 130 °C | Rubber | Polyester |
| SynTape® B/ P.42 | B / 130 °C | Silicone | Polyester |
| SynTape® F/ PVX.30 | F / 155 °C | Acrylate | Polyester, Glass fibre |
| SynTape® B/ PR.25 | B / 130 °C | Rubber | Polyester, Glass fibre |
| SynTape® F/ PS.25 | F / 155 °C | Acrylate | Polyester, Glass fibre |
| SynTape® F/ PS.30 | F / 155 °C | Acrylate | Polyester, Glass fibre |
| Syntape® B/ PR.30 | B / 130 °C | Rubber | Polyester, Glass fibre |
| SynTape® F/ PT.20-20 | F / 155 °C | Acrylate | Polyester, Polyester non-woven |
| SynTape® F 131/ PT.40 | F / 155 °C | Acrylate | Polyester, Polyester non-woven |
| SynTape® B/ PT.25 | B / 130 °C | Rubber | Polyester, Polyester non-woven |
| SynTape® B/ PT.45 | B / 130 °C | Rubber | Polyester, Polyester non-woven |
| SynTape® B 354/ R.180 | B / 130 °C | Rubber | Polyester, Paper |
| SynTape® B 616/ GL.95 | B / 130 °C | Rubber | Glass fibre |
| 3M™ No. 1350F-1 | B / 130 °C | Acrylate | Polyester |
| SynTape® F 562/ GL.94 | F / 155 °C | Acrylate | Glass fibre |
| 3M™ no. 79 | F / 155 °C | Acrylate | Glass fibre |
| SynTape® H 618/ GL.96 | H / 180 °C | Silicone | Glass fibre |
| SynTape® H/ GL.99 | H / 180 °C | Silicone | Glass fibre |
| SynTape® A/ CP.50 | A / 105 °C | Rubber | Crepe paper |
| SynTape® F 118/ H.20AC | F / 155 °C | Acrylate | Kapton® |
| SynTape® F/ H.50AC | F / 155 °C | Acrylate | Kapton® |
| SynTape® H 428/ H.20 | H / 180 °C | Silicone | Polyimide |
| SynTape® H/ H.50 | H / 180 °C | Silicone | Polyimide |
| SynTape® H/ 560 | H / 180 °C | Silicone | Polyimide |
| SynTape® A16-320 | | Acrylate | Non-woven |
| SynTape® F/ PX.50 | F / 155 °C | Rubber | Polyester, Aramid |
| SynTape® F/ K.30AC | F / 155 °C | Acrylate | PEN |
| SynTape® H/ K.30 | H / 180 °C | Silicone | PEN |
| SynTape® F/ PX.11/18/23 | F / 155 °C | Acrylate | Polyester, Aramid |
| SynTape® F/ X.80 | F / 155 °C | Acrylate | Aramid |
| SynTape® A 560/ CA.100 | A / 105 °C | Rubber | Acetate fabric |
| 3M™ no. 1181 | | Acrylate | Copper |
| SynTape® SCUT 36 | -40 up to +120 °C | Acrylate | Copper |
| SynTape® B/ P.40 | B / 130 °C | Silicone | Polyester |
| SynTape® AL.50 | -40 up to +150°C | Acrylate | Aluminium |
| SynTape® AS.50 | -50 up to +150 °C | Acrylate | Aluminium |
| SynTape® AL.080 | -40 up to +150°C | Acrylate | Aluminium |
| SynTape® AS.080 | -40 up to +150°C | Acrylate | Aluminium |
| SynTape® B/ PM.099 | B / 130 °C | Acrylate | Polyester |
| SynTape® TF.50 | H / 180 °C | Silicone | Teflon |
| SynTape® TFE.130 | H / 180 °C | Silicone | Teflon |
| SynTape® B/ P.231 | B / 130 °C | Rubber | Polyester, Double sided |
| 3M™ no. 92 | H / 180 °C | Silicone | Polyimide |
| 3M™ no. 27 | B / 130 °C | Rubber | Glass fibre |
| 3M™ no. 69 | H / 180 °C | Silicone | Glass fibre |
| SynTape® F/ RX.50 | F / 155 °C | Rubber | Nomex® |
| SynTape® 1695 | -15 up to +130 °C | Acrylate | Polyester |
| 3M™ No. SUPER 10 | F / 155 °C | Rubber | Polyester |
| SynTape® TRB16 Eco | | Acrylate | |
| SynTape® TRB19 Optimo | | Acrylate | |
| SynTape® F/ X.50 | F / 155 °C | Acrylate | Aramid |
| SynTape® H/ 301 | | Silicone | Polyimide |